By Don Liesemer

Roger Neilson was known for his Christmas Mailing Tradition. Each December the former NHL coach wrote countless personal notes and carefully packaged an endless number of cards and gifts for his ever growing list of friends. He wanted to make each recipient feel special. Year after year, thousands looked forward to receiving a personal note from their favorite coach.
In 1997 I was blessed with a "behind the scenes look" at the postman's methodology. Roger was an assistant with the St. Louis Blues at the time. On December 10th, while his team was in Montreal, Roger called several times wanting to make sure that I was going to meet him after the Blues' pre –game practice. As he stepped off the ice he motioned me down to the coaches' room. He seemed anxious and in a hurry-up state of mind. He quickly directed my attention to two bulging, goalie bags and three or four over-sized boxes and with a big grin on his face, told me that they were carrying his Christmas mail. Following his orders, I backed my station wagon into the Bell Centre's garage and packed his treasured cargo into the back. It felt like we were riding Santa's sleigh as we hustled his sacks to the nearest post office.
En route, I discovered that Roger had fast talked the team's equipment personnel into allowing him to transport his goods on the Blues' plane. Utilizing the baggage compartment was the frugal coaches' way of avoiding excessive postage costs for his extensive mailings from the U.S.A into Canada.
I sensed trouble ahead as we dragged the heavy bags and boxes over snow banks and sidewalks, eventually managing to jam them through the door of a small Montreal Post Office. Words cannot describe the utter amazement on the faces of the overflowing crowd of Christmas mailers. Santa Claus had arrived! A win seemed impossible for captain video. This was not a friendly crowd. Oblivious to the looks of unbelief, he plowed ahead. The former junior goaltender methodically bumped and grinded his way through the army of mailers and soon found himself face to face with the postmaster.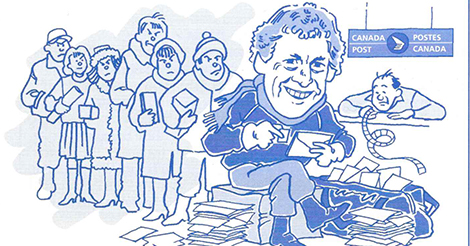 40 years of duty was insufficient preparation for the unsuspecting Canada Post employee on the other side of the counter. Digging down into the bags, Neilson deposited one package at a time on the counter- each to a different destination and each needing to be weighed. Every stamp was affixed under the glaring eye of the prudent coach. Canada Post was not going to get one penny more than it deserved. 1000 games behind the bench had hardened the coach to the groans and heckling from the impatient throng in back of him. Undaunted, he stayed on task.
Time stood still in that little post office in downtown Montreal. The mob of customers completely unaware that an amazing story was playing out...That small coach with a big heart was personifying the real spirit of Christmas. To him, all that mattered was that his friends were waiting to hear from him and he wasn't going to let them down.
The mail had to get through…and it did.


"Roger knew the real meaning of Christmas and we were all richer…

It certainly was not the tangible items or cards, but his sincere friendship and guidance we will all miss this holiday season. But let us all rejoice for we know this Christmas he is celebrating with One he worshipped in the highest…

just as he would want us to do." -Roy Mlakar, former President of the Ottawa Senators

"...let your light shine before men, that they may see your good deeds and praise your father in heaven." -Jesus

"How far that little candle throws his beams! So shines a good deed in a weary world."
-William Shakespeare

*On June 21, 2003, after a brave battle with cancer, Roger Neilson was welcomed into the arms of Jesus.